Shopping Cart
Your Cart is Empty
There was an error with PayPal
Click here to try again
Thank you for your business!
You should be receiving an order confirmation from Paypal shortly.
Exit Shopping Cart
Inspired to Action blog posts by Rebecca Pratt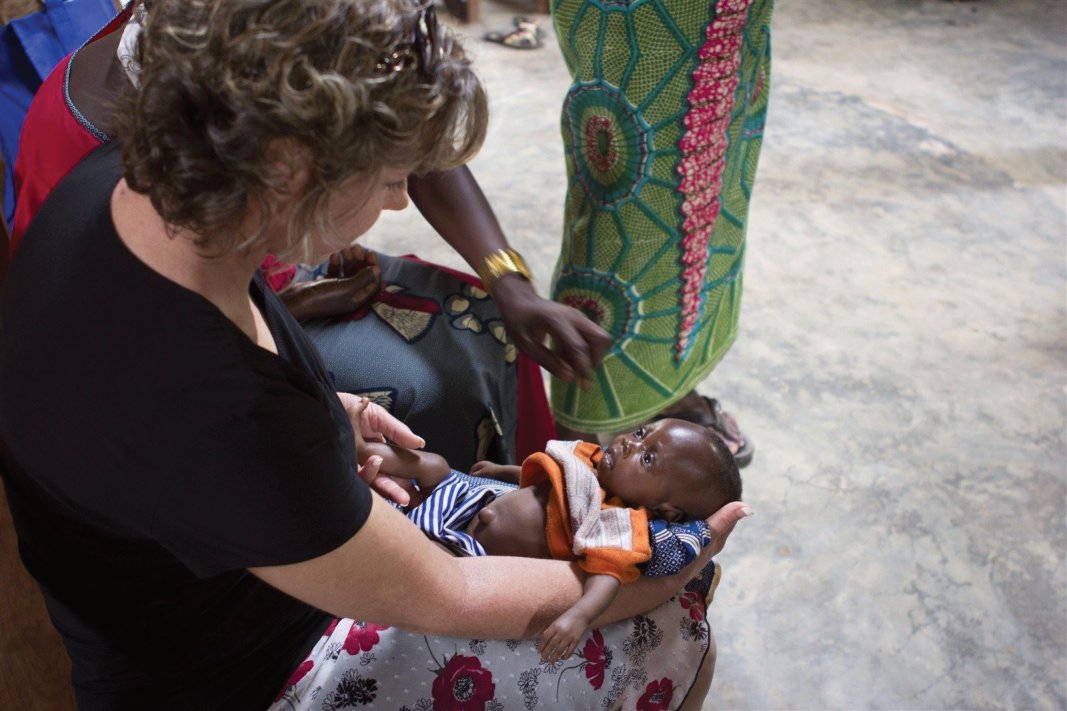 Holding a starving baby girl weighing only 4.4 lbs as a five month old was heart wrenching. (Actual picture of her posted here). As I held this little one, named Lucresse, in my arms she was panting fast and quick shallow breaths as if at any minute she would take her last. I honestly did not know what to do. I sat down and placed my hand on her chest and began to pray. "Oh God, please help this little girl. If it be your will, spare her life and give this little one comfort and peace". As I prayed her breathing became normal and peaceful. Once my prayer was over, her panting started up again. I sat dumbfounded, honestly not knowing what to do next. I knew Lucresse would soon die without immediate intervention. She was starving and dehydrated.
       My motherly instinct was screaming for me to rush her to the nearest hospital, but a quiet sense deep in my heart that I felt was God's quiet voice was guiding me to do the very opposite.
       This encounter happened in Oct. of 2013 in a village in Benin where we had just begun our anti trafficking efforts in the rural areas where the life of a child had no real value. Mothers were selling their children for a mere 20 dollars due to poverty and not having the means to feed all their children. Selling their children so that they could have relief from feeding and caring for an extra mouth became a way of life for these villagers. This was just a way of survival.
       In a meeting where I was sharing with a group of mothers why they should not traffic their children, this tiny baby girl caught my attention. No one seemed alarmed by this little one's condition, and in their mind if this baby died due to her mother working in the fields all day and only feeding her one time each night, well it was simply the will of the gods that destined this child to die. In their minds her death would not have anything to do with a negligent mother.
       With a heavy heart that evening a plan came to mind to task one of our female anti trafficking team members to oversee Lucresse's health, along with this little one's mother. She was also tasked to teach all the women in this area how to take care of their babies and to share about the value of life.
        Lucresse and her mother had a four-week stay in the hospital getting her up to eight pounds, and hours of oversight by our team member. With every village mother watching this situation extensively, women were getting trained on how to take care of their babies. 
       Lucresse was weighed in front of the villagers weekly, and extensive teachings were given to all the mothers of the village on how to take care of their babies and how to help each other to take care of their little ones.
        Fast forward to this month in January of 2016. To my shock and amazement just two year's later we are seeing a huge culture shift due to our anti trafficking and micro finance efforts in this village. Not only have we been able to stop the trafficking of children, given over 80 women micro loans so they can begin to feed their own children, but we are also now seeing mother's properly caring for their young ones. 
       Many of these women have committed their lives to Christ, and their testimonies of huge life transformations because of what the God who created them has done in their lives is unbelievable.
       On this recent visit to Benin, the mothers were very eager to tell us how thankful they were to be shown a better way, (God's way) to care for their children. With a sense of pride they presented Lucresse to me to show me how well she was doing.
       In this same room, where Lucresse was once dying and no one was alarmed, I was watching women eager to show us how much they have changed and how they have come to 
understand that their children are important.
It is beautiful to be apart of these huge transformational stories, where we have been given front row seats to a God who is all about redeeming, restoring and rescuing! Amazing!  To read more about this work and what we are doing, you can visit: www.orphanreliefandrescue.org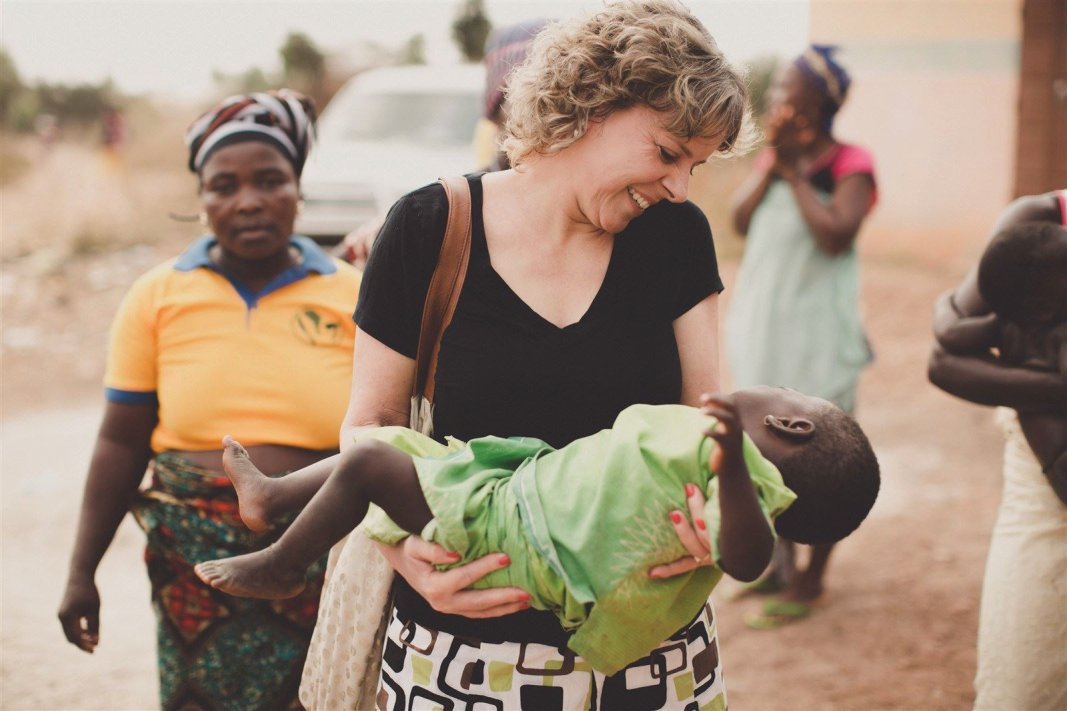 This picture was taken last week. Lucresse is shockingly healthy!
In September 2013 we were able to rescue 40 children from becoming trafficked in Benin. The children are all in school and we are working hard to help the parents with small business endeavors so they can feed their children. We are seeing beautiful results from these endeavors. 
Five sewing machines were provided for our anti trafficking team to manage in the village. Three sew machines are being used by 3 villagers. Each person who is using the machines each pay 14.00 per month to use the machines.  In 14 months of paying monthly to use their machine, that money will be used to purchase the machine they are using, and it will become their own. Another new/ used machine will be purchased for another woman or man to start their sewing business. The 14.00 dollars that goes into the pot from those who are sewing is being used to loan to woman to start small businesses.  Little micro loans are being made for 4.00 per woman to purchase food things that they can make things to sell in the market with.  The woman are paying it back at the end of the month with an extra 20 cents added for interest.  These ladies are all so poor, these amounts are working for them to start up small income businesses. They have around 50 women doing these small businesses from those loans. This has become very successful.
The other two machines are being kept with one of the team members of the Anti trafficking team. She is teaching the woman at her place how to make bags and purses. She just started doing this. She said she will let me know how this goes. She is trying to find higher income generating things for the women to sell.
These are two testimonials from 2 parents of children on the feeding program we implemented with the children who we helped get into school.  We are providing a hot lunch at school for the 40 rescued children.
Here are two testimonials.
I am the  reason why the  team  came to our  village . In previous years I could not buy a uniform  for my child, or provide school supplies  for him, so he was never able to go to school. This year every thing  has  changed, my  child has a school uniform, school stuff and is able to eat food every day at school. I  notice that my child never misses class and loves  to go to school  because, he knows he will get something to eat there. God bless the team
I  had a plan to send my child to Nigeria this last year, but when the  team came asking for names of children who could not attend school, and who were going to be sent away, I  quickly gave my child's name to the team. I am thanking the team for giving my child food at school every week. The food they are getting at school keeps them from coming home at 10  am to look for food at lunchtime. Most of the time they would not return to school because they had no food to eat. God  has  used the team to solve this problem.
I am so thankful to God and to all those who are helping us to make sure these kids stay rescued and not another statistic of trafficking. This is incredible work.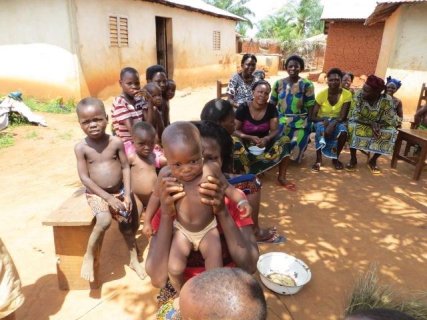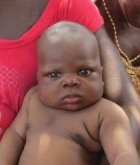 As I faced a large group of mothers before me this week who traffic their children, my heart was unexpectedly broken.
     Each mother, in the area we are working with in Benin, can barely feed their children and can rarely ever afford to send their children to school. They do not even make the $1 US dollar a day wage.
     My task was to tell them to not traffic their children. as this is one of the largest child trafficking area's in Africa. My team and I were asked by the Judge that incriminates the traffickers, to please get our people into these villages to see what we can do to help these children and parents.  
     When rescuing the children from the neighboring border of Nigeria, his heartache is having to take the children straight back to the villages where the parents have sold their own children.  His heart breaks as to how young these children are. 5 to 10 years old is the average age. Once taken back he know's the child will once again end up in the trafficking ring. "Please Rebecca, just get some of your team in there to try to help these parents and kids", pleaded the Judge. 
     So after much prayer and planning, Orphan Relief and Rescue was able to form a partnership with a group of pastors who have become our anti child trafficking team. We are targeting the three top villages who traffic their children, as advised from the Judge.
     We were able to rescue 40 children from becoming another statistic of trafficking this last month, by providing what they needed to get them into school. If the parent can send their child to school they will not traffic them. The parent had to sign a contract with us as well, saying they will never traffic their child out if we help them. This initial cost was only 800 US dollars to do this.
     With the women before me I shared about the value of a mother and child relationship. That God has naturally given each woman a mother's love for her child and we must never break that. We are never to get numb to what God created us to be, which is the nurturers and protectors of our children. 
     One woman stood up and said, that she has so many children she does not know what to do. Her husband died and he had other wives who have also died and now she has many, many children. The only way to survive is to send the children away. She cannot manage them. 
     Another woman stood up and said she also has over 10 children herself and is pleading with us on behalf of the younger woman to help them to not have so many children. They do not know how to manage all of what they have. I shared their need to go to a clinic and get what we call family planning, (birth control teaching and training). As well as our team can advise them on how to do this. But as of now, if you have the children in your care already, please do not send them away to work. (They feel they are just sending their child away to work for their own survival, they cannot grasp the concept of what happens once that child is sent away). "There are others ways to make sure your children can be taken care of, I said. We can help advise you with some practical solutions. God has a plan for each child. Every child is unique and special", I tell them.
     I shared in depth of what happens to their child once they are taken. I did not hold anything back.  My heart was connecting to each of these women as I looked into their desperate eyes. My thoughts condemned me as to the reality that I personally will never be able to ever fathom the magnitude of what they have to deal with on a daily basis. Their daily decisions are unbelievable. At the same time, God had me there standing on a dirt floor in a building full of desperate mothers. I have learned over the years that these appointments from God are never an accident or fluke. They are God's plan to show people His heart for them and for their children. So that is what I did. I shared God's heart and the realities of trafficking.
     As I shared what happens when they send their child away, I am not sure that some of them even believed it, or maybe they just did not want to believe it. This is the way things have been done for hundreds of years in these villages. It is how they survive. Yet, I did see others who I knew did get it and their hearts were being softened in ways they had never expected. God was shedding their calloused layers off of their hearts as I spoke. They were hearing about a God who values lives and individuals. 
     This area is known for being the voodoo capital of the world. Sorcery and witchcraft are intertwined with every area of life here. There are only a handful of people that are Christians in these villages. All you have to do is look at their eyes to see the difference. It is quite a reality check as you can visually see that the eyes are truly the windows to the soul. People who are deep into practicing voodoo have an blank look of darkness in their eyes. Their eyes look glazed over and hollow. Those who are Christians have a brightness to their eyes. They have a completely different look to their eyes. Even the babies of the mothers who are involved in this witchcraft have these same eyes. The picture above is one of these babies with the blank eyes.  
     So we are not just dealing with poverty, we are also dealing with the evil spirits that keep these family crippled and numb to their God given sense to want to nurture and to protect their own. That is at the core of the bigger problem
     People ask me, what is the solution then?  My response is, "Jesus".  The almighty powerful God of the Universe who created each of us unique, special and incredibly valuable and has a beautiful plan for our life. When we practice or play with witchcraft, it will destroy us. Everything we touch will be cursed.  We see huge visuals of that in the villages. It leads to death in every area of our life. It numbs and deadens our natural God given intuitions, such as loving and nurturing our children.
     Education and practical hands on training and teaching, micro enterprising and other practical things have to be intertwined with the spiritual teachings as well, or they will still be crippled. 
     The answer all goes together. The core is Christ, and the peripheral is practical application and education. This all has to  come about through relationship.
     Always showing love and value to every man, woman and child who comes into our path, as we represent Christ wherever we walk. We are to never cease to pray for eyes to be open and clear so that people can be set free for their children and families sake to break the cycle of this awful
practice of bondage and trafficking. 
Sometimes we wonder if our prayers really make any difference. Are they making an impact? Are destinies changed? Are accidents thwarted? Are lives saved? Are Nations and people groups impacted?
In reading about Esther and Daniel and the many others of strong faith in the bible, as well as things I have seen God do personally, I can say for sure, a strong yes! Our prayers do affect change wherever we go and in whatever we do.
When Esther was getting ready to go before the King to plea for her people to not be killed, she first gave a message to all the Jewish people to begin a three day fast and prayer time. Before this prayer time, the King was giving his right hand man, Haman, his approval to do whatever he liked in his kingdom, including putting together a decree to wipe out the entire Jewish people group. The King was not alarmed or concerned by any of it. He encouraged Haman to do whatever he pleased with this people group.
It says in Esther 6:1 that after three days of fasting and prayer by the Jewish people, the King could not sleep that third night. He was agitated all through the night. God kept him up with the remembrance of Mordecai and the fact that Mordecai had brought to light the plot his Eunuchs had to kill him. Not knowing Mordecai was a Jew, it bothered the King that he had not honored the man who had saved his life. This was just the beginning of God's plan to change hearts and to prepare the soil for what Esther would present to the king to spare her people. This sleeplessness came about as the Jewish people were praying.
Another Example in the Bible was with Daniel. While he was reading the prophet Jeremiah's writings, he discovered that it was prophesied that the Israelites' captivity would only last for 70 years. It had almost been 70 years. Instead of just expecting God to set the Israelites free, Daniel suddenly feels the urgency to pray and fast for this to come to pass (Daniel 9:3). Somehow, he understood that prayer had a huge part to play in bringing that prophecy into existence. In Daniel 10:12-13 an angel appeared to Daniel and spoke these words to him: "Do not be afraid, Daniel, for from the first day that you set your heart on understanding this and on humbling yourself before your God, your words were heard, and I have come in response to your words. But the prince of the kingdom of Persia was withstanding me for twenty-one days: then behold Michael, one of the chief princes, came to help me for I had been left there with the kings of Persia." This was speaking of the spiritual battle going on in Heaven as Daniel was praying.
The Israelites were set free soon after that.
There are many examples in the Bible that give illustrations of how God asked someone to pray or act upon something which would enable God's will to come to pass. Jesus even told us in Matthew 6:9-10 to pray that His kingdom would come and that His will would be done, on Earth as it is in Heaven. Why would Jesus ask us to pray this, if it was just going to happen? We are His representatives on Earth. He needs us to pray and ask for His perfect will to be accomplished.
In the work we do in Africa, we have seen over and over again that as we pray, and people such as yourself pray, many amazing things happen. Kids are able to be rescued. Abusive situations are discovered, and interventions are able to take place.  Strong favor  is upon everything we touch. God's highest is being accomplished. May we each continue to pray like never before for God to continue to accomplish all that He has planned, in and through our lives as we reach out to help those in need in front of us.  
This little boy's life was rescued because of prayers. His name is Ezekiel. He was destined to die without outside intervention. He had a life threatening hernia the size of a cantaloupe on his groin area. God made a way for us to help rescue him deep within a Liberian village up country where there is no medical care. We were the first white people to ever come to their village. His destiny was changed through God's intervention through our prayers and efforts. God's heart is to restore, redeem, and to rescue, and this is how we prayed according to His perfect will. Surgery was successful on Friday Aug. 16th.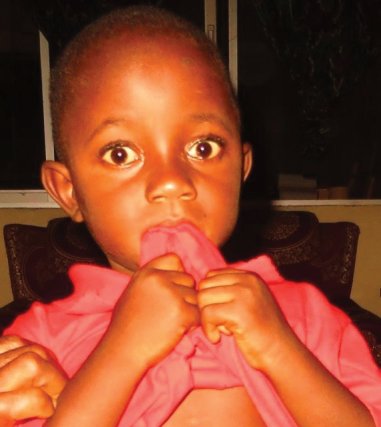 This little girl is from the same village in Liberia where we were able to help rescue Ezekiel. She along with all the village kids were given new clothes, flowers for their hair, and stuffed animals. Precious kids whom God has some beautiful plans for.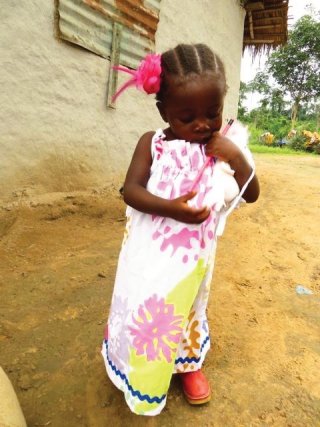 During my one on one meetings with the children at our orphanage/safe home, something very unexpected happened.    
      I asked the little 11 year old girl in front of me, how she was doing. I asked her if she felt safe and protected here at the home, and at her school, due to my knowledge that she had watched her parents be brutally murdered in front of her,     
      I had to be very careful not to try to make this a big emotional ordeal, but wanted to see how she was doing in her heart. I told her I knew about her parents, and wanted her to know that we want to make sure she is doing okay, not just physicaly, but also emotionally.    
     She said she does feel safe here. I asked her if she still has nightmare's about her parents death. She said, "yes, I will never forget". We talked about what to do when she has those nightmares. I told her how proud I was in watching her as a big sister to her younger brother and sister. I told her that her mother and father would be so proud of her as their daughter.  
     Then God did something I did not expect. God gave me a glimpse of this being my own biological child, and me being the one brutally murdered looking down at this conversation, with a caring woman speaking to my child.  I felt like God spoke to my heart these word, "if you were dead, what would you want this woman to tell your child for you?"  Oh my goodness, I immediately said in my mind to the Lord, "I would want her to grab my child in her arms and hold her, and rock her, and kiss her, and tell her how proud I was of her, and how much I love her, and that she is not forgotten or alone. 
       Then I felt like God spoke to me and said, "Then do this".  So I looked at this precious little girl, and asked her if I could represent her mother and rock her and hold her like her mother would have. She shyly said yes, and climbed into my lap, put her head into my chest and allowed me to rock her and kiss her as I told her how much her mother loved her and how she will always love her into all of eternity.     
      Without her being aware, tears were flowing down my face in deep emotion, as this precious girl stayed nuzzled into my chest. My translator started talking to me in English so this little one could not understand, and began to tell me to stop the tears, because this would not be good for her to see, I told her I was trying, but God was completely breaking my heart for this little one. She then also became emotional, and for the next few minutes we both worked hard to get our composure, with this sweet girl unaware of what was transpiring above her, as she was lost in this embrace of love. 
     This was just a fleeting moment in time, yet for the rest of the day, this precious girl clung to me every moment she could.     
      God re-reminded me the need for every child to be recognized as an individual. In the masses of children and need. Each child has a name, a dream, a destiny, and a story. Each child needs a special touch from God through our life.

The people in Benin are beautiful and have truly won over my heart.  I love to see the huge redemption story God is unfolding, as He works to redeem so many broken lives. The difficult thing about this country is watching so many people go through incredible pain and hardship in the name of culture.  
     If you talk to most locals up country in Benin, they will tell you their culture does not cause any pain, unless of course, you make someone mad. Then you better watch out. because you may be cursed or poisoned, which is a common remedy to their problems. Otherwise, they will tell you, their culture is beautiful and wonderful. Benin is known for being one of the most cultural african nations. You will notice right away that they love to dress to the hilt in their african material, even if just going to buy something in the street market.  It is disgraceful not to look your best. The traditions of their ancestors are practiced in a strong way. There are beautiful things about this culture, but there are equally wicked and evil things, which brings me back to Benin over and over again. 
     Some may wonder why I regularly highlight the sad things in Benin and not all the good things. I have to say, due to all the injustice to children that I have seen happening here, I am driven to come half way across the world to fight hard for the many helpless ones who have become victims in the name of what is called culture. I would gladly stay in my comfortable home in America, yet I have seen and heard too much, and God will not allow me to stand back and do nothing. I desperately need people to help in this fight, and without telling the stories of the reality of so much pain inflicted on children here, I cannot get the help these kids need.  At the same time, I have to also honor and love those in my path, no matter what country I am in, and for that, I do not look at any of those who practice these wicked things as terrible people, I look at them as just doing the only thing they have been taught. It is all they know. They do not understand why life is valuable. This is where the God element has to comes in, along with each of us doing our part.
     Without understanding that there is a God who created each of us in HIs own image and takes great value in our lives, there is no concept of why a human life is sacred and valuable.
     In the area's where voodoo and witchcraft is practiced, it is accepted as cultural practices not to be disrupted. This is where no child's life carries much value, and an orphans life carries no value at all. In their view, them becoming orphaned was destined by the gods, and therefore that child is destined to be in service to others for the duration of their childhood. Horrific abuse occurs to those children in those villages.
     The good news is that In these efforts, we are seeing huge progress with each year that passes by. Not only with the children we are able to rescue, but by our shear presence, and others joining this fight for justice. We are making a huge difference as we represent the voice of every hurting child in each village we visit, and in every government office we enter. For that reason, I keep jumping on planes and working hours and hours to keep Orphan Relief and Rescue running, along with our small staff, volunteers and donors. We do this for the sake of the voiceless ones who need us to keep fighting for them in both Benin and Liberia.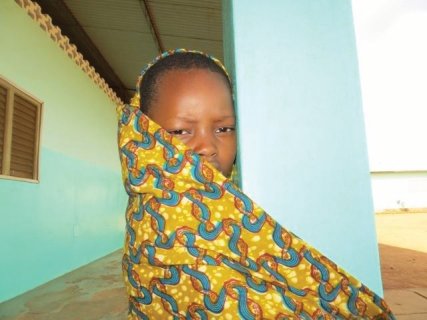 Beating an orphan to death and burying them in the back yard with no questions asked, is not okay. Cutting up a child's face in a painful voodoo ceremony, is not okay. Using an orphan or abandoned child as a slave, is not okay. Female circumcision is not okay. Taking a child bride is not okay. Selling your child into trafficking is not okay. Poisoning a loved one or co -worker to die or get sick, is not okay. Sacrificing children to appease the gods, is not okay (this is now outlawed here, but still occurs). The only things  mentioned here that you can go to jail for, are the human sacrificing or poisoning, if someone tells on you and they can prove it. Even then, most are afraid of being poisoned or cursed themselves and won't tell.
     I must make a side note here, that not all of the area's of Benin are the same. There are different area's where the things I share about are not practiced. What I share does not represent the whole of the country, yet, in the areas where we work, and in many villages in Benin, it does in a very real way. There are also many local hero's who are in this fight for justice as well, and for those, we regularly join forces to support and help them in their efforts.
     For the lives of the innocent, we will keep fighting, even if it is not culturally acceptable to question these things.

As I hit Paris on my layover to Benin, my social encounters come to an end, as I said hello to the French speaking Countries I would be in for the next 12 days. Rarely do I find anyone speaking English at this point in my travels.
     When I boarded the plane I asked the woman next to me in my few known French words, if she spoke English, she said no.  So my next seven hours were spent in silence.  
     This has become a common occurrence in my travels to Benin. This never get's any easier. I listened to my French lessons on my earphones, and used the rest of the flight to sleep, as I had lost one full night's sleep, and was quite exhausted. 
     The discomfort of not knowing the language, and my questioning again of why God asks me to work in a country where nothing is personally comfortable, rose to my mind. I fought these negative thoughts, and told the Lord, I am His. I will continue to do whatever He asks, even if I am completely out of my element and comfort zone. I committed once again my hands, my feet, and my mouth piece, however He wants to use them. I am making myself available to whatever He wants to do through my life.
      My friend, and Director of the orphanage/safe home we have brought into existence, picked me up at the airport and we had a wonderful time catching up, as English is her first language. 
     The next day we took the long, hot and bumpy road up country to where our kids were waiting for us, and where my friend dropped me off for the rest of my trip, as she does not live at the orphanage, I then had my translator meet me the following day to begin the work part of the trip with child profiles and updates, sponsorship letters, and all my Government meetings. Which brings me to today. (Friday).
     As I arrived, the hugs and kisses crossed all barriers of language, even though it was initially awkward to find adequate words to say except hello, and how are you.
     After Eating and taking a much needed nap that first evening with the kids, I went outside my room to face the awkward language barrier again. I was immediately embraced and mobbed by children who wanted hugs and love.  That is the one thing I could do. 
     They pulled up a chair for me, as they stroked my arms and put their hands through my hair and fought for my lap. We did our usual practicing of French words for me, and English words for them, and had fun just hanging out together into the night hours. 
     I began to thank God for each life rescued in front of me. 56 of the 59 kids in this home have no parents alive. The little 5 year old girl who was standing in front of me had watched both parents be brutally murdered in front of her. The 15 year old girl who stroked my hair was rescued from being married off at the age of 13 to a Muslim man who had many other wives. 
     One redemption story after the next flooded my mind, and all I could do in that moment was to thank God for this incredible privilege of allowing me to be apart of this work. 
     This morning I awoke to kids singing praises to God in their morning devotions at 6 am, In my own quiet time, I listened to the worship song called, "Dance with me." The words hit home as God reminds me that He wants to dance with me even when it is uncomfortable. He will lead, and He wants me to follow in this beautiful dance with Him. 
     The words to the song echo in my mind "Won't you Dance with me, oh lover of my soul, to the song of all songs. By your love you have captured my heart. Won't you dance with me." 
     God is echoing these words to each of us every day. "Won't you dance with me?"
     May my answer always be, "Yes, I will dance with you, my Lord."
Where you lead, I will follow, even when it is uncomfortable.

Psm: 143:8 NIV:   Let the morning bring me word of your unfailing love, for I have put my trust in you.

Are you living in fear that is crippling you from living your destiny?
Many of us self sabotage our lives over and over by not dealing with the many fears in our life.
     Fear of financial failure, fear of rejection or hurt, fear of the unknown, fear of the end of the world, fear of loss, fear of God not coming through, fear of death, fear of losing a loved one...... The list goes on. You name it, we can fear it.
     I have realized that most fear in my life ultimately comes from lack of faith in God, and a lack of really understanding God's character. It can also come because I am unwilling to deal with the issues God has asked me to deal with in my life. 
     If I am walking humbly before God and seeking God with all my heart, and loving all those in my path and doing what God asks of me each day, then I should never be walking in fear.  I can walk free and walk forward in all that God asks of me.
     One of the classic stories in the Bible where fear crippled God's people from coming into their destiny, was in Deuteronomy chapter 1. God freed the Israelites from slavery in Egypt showing His power and favor on them. God wanted to give them the promised  land flowing with milk and honey as a fulfilled promise to their forefathers, Abraham, Isaac and Jacob. When the Israelite men scouted out the land, they were crippled in fear after they saw the people were like giants in the promised land. They came back from their scout out trip, and put the fear in all the Israelites minds, saying they could not conquer them due to their size. Only Joshua and Caleb had faith, but this faith almost got these two men stoned by all the ones who were living in fear. 
     Because of their fear and lack of faith in God, God did not allow that entire generation to step into the promised land. They had to wander in the desert for 40 years. That whole generation had to die off before God would give them the land. Joshua and Caleb were the only ones of that original group that were spared and given a long life so they could inherit the land with the next generation.
     For me, different fears rise up regularly. When the fears come, I have to seize them and take my thoughts captive, as it says in 2 Corinthians 10:5: "We are destroying speculations and every lofty thing raised up against the knowledge of God, and we are taking every thought captive to the obedience of Christ," 

     Next week I leave for Benin, West Africa. This is the voodoo Capital of the world. The area I stay in is not an easy place to be. Oppression sits in as soon as I hit the ground. I instantly feel depressed and overwhelmed with a spirit of inability to affect change. I feel a hopelessness that comes on me.  This is a complete lie, because God is doing crazy and beautiful things in the kids lives whom we have helped rescue. who are living in our orphanage/safe home. Yet when I am there, these feeling seem very real. It is hard to explain. 
     I also get fearful that I am going to die, the spirit of death is all around, and the death rate is huge with murders, accidents and all around unknown causes of deaths.
     I have to stay real close to God and not give attention to these fears at all, or I would not be able to function once I arrive in the country.
Instead, I choose to, moment by moment cast all my cares on Him, like it says to do in 1 Peter 5:7 Cast all your anxiety on him because he cares for you. I have to choose to trust God for my life and for the lives of those in front of me. 
     I also have to come to a place of surrendering my life over and over to God. If I die, what is the worst thing that could happen?  I go to heaven.  That really is not such a bad thought. As I have full confidence I will go to heaven.
     I choose daily to give my life and my everything to God. He is the boss, and If I choose to trust Him. even unto death. Then I become free.
My dad has a saying "until you are ready to die, you are never really ready to live."  Once we deal with the ultimate worst thing that our minds go to, and that is death, then if we have no fear of death, then there is nothing to fear in this world. Whatever God asks of us, we can walk freely to do it without the ultimate fear of dying.
     That does not mean we do stupid and careless stuff, on the contrary  We make sure everything we are doing counts, and that our time is not wasted on what does not really matter.  We live each day as if it were the last, and then we never waste our days on superficial things.  We also kick the fear right out of our lives, and fully with 100 percent trust, hand our lives over to God. 
     Then we are truly able to partner with God in whatever He asks, without walking in crippling fear. We are then ready to live how God destined us to live. Free and walking in whatever He asks us to walk in. As we walk free of these fears, we are able to help others come into this freedom through Christ, as well.
     I refuse to allow fear to cripple me from living my destiny. 

     Are you living free and living your life as God destined you to live?

Through life, we are sometimes faced with having to submit to leaders we would rather not have to submit ourselves to. These could turn into incredible testing times for us.
     For me, it has been having to submit to different leaders in Africa that are not easy to work under.  I know that if I want to affect positive change for the kids we are rescuing on a regular basis, then I have to walk a very careful road for their sakes.  I am also keenly aware that I am a direct representative for Christ, and I may be the only true Jesus some of these officials will see. To my incredible surprise, my relationship with these different ones, have been full of favor, and I am seeing God work through these relationships to be able to help many more children.
     When unGodly leaders are all around us and we are forced to serve those who are not making good choices, or who may be doing terrible or unjust things, how do we react? Do we pray and ask God for opportunities to allow God to reveal who he is through our life and our actions? 
     When we see leaders walk in corruption, How do we respond? Do we gossip and try to figure out how to ruin their life? Or do we show value to them and pray each day for opportunities to allow God to have his way in every circumstance in front of us, and to show himself strong through our lives? 
     2nd Chronicles 16:9 (KJV) says this: "The eyes of the Lord run to and fro throughout the whole earth to show himself strong on behalf of those whose heart are perfect towards him." 
     Is your heart perfect towards Him? Can He show himself strong through your life and actions?
     All through the Bible we are given incredible examples of Godly men who chose to stand strong in the Lord and to be honorable, even when their leaders were corrupt and were completely unjust. These are just a few. 
     Daniel is a man who submitted himself to unGodly leadership, yet never compromised his faith and walk with God. In Babylon, where Daniel was a slave, the King had the highest respect for Daniel. His whole kingdom was able to witness the power of God, and came to believe and serve God through the miracles they witnessed through Daniels life. In Daniel 2:48, after interpreting a dream, that only God could have given him wisdom to do, the king promoted Daniel, and made him ruler over the whole province of Babylon, and chief administrator over all the wise men of Babylon. 
     His actions and prayer life was also noted in the Book of Daniel to be what God used in the spirit realm to set the Israelites free after 70 years of captivity, through his fasting and praying. Daniel was not intimidated by unGodly leadership.
     In Genesis 39-50 we see how Joseph was treated very unjust by many, yet still found favor in all the unGodly leaders that were before him. In Egypt, Joseph was able to interpret the Pharaoh's dream, and was given all power over Egypt. This gave Joseph the ability to save the whole world from starvation during the 7 years of famine, by storing up grain in the 7 years of plenty. In spite of all the hardship he endured at the hands of others, he never lost faith in God. He showed value and respect to every leader who was over him, and was given favor with each one.
     In 1 Kings 18:4 Obediah was a Godly man who was in charge of King Ahab's household. It says in 1 Kings 16:33 that Ahab did more to provoke the Lord to Anger than all of the kings of Israel before him. Yet while Ahab's wife Jezebel was killing all the Godly prophets, Obediah was able to hide 100 prophets from her, thus saving their life. He kept his faith in God and continued to use His life for God's purposes, even when his leaders were so terrible. He had all the connections needed to secretly rescue these prophets.
     These are just a few incredible examples of how ordinary men were forced to serve unGodly men, and yet were honorable, loving and respectful to their leaders, and allowed God to show Himself strong through their life. Whole kingdoms, and thousands of people turned their hearts towards God through their faithfulness and unwavering faith in God. 

     Let's choose to be honorable to whomever is in leadership over us, so God can show Himself strong through our life.

Through my life I have found that God is truly trustworthy and really does have the best for my life, and for the lives of those in front of me.   All through the bible God shows us that He is always working towards Redeeming, Rescuing and restoring people. 
     In 1 Kings 17:9-16 Through a 3 year famine, the Prophet Elijah was told by God that a widow would feed him and care for Him, yet when he reached this widow, she was preparing to make the last bit of food she had, and was preparing to die with her only son. 
     Elijah asked her to please make him a cake first, and that God would not let her flour or oil run out until the Lord sent rain on the land. So by faith she did according to what Elijah asked, and it says in the 16th verse, "The bin of flour was not used up, nor did the jar of oil run dry, according to the world of the Lord, which He spoke by Elijah"
     This story reminds me of a pretty desperate situation that happened last June, where I had to either trust God or fall into deep despair. 
     I was in Benin, and Tim was in Liberia. I checked our Orphan Relief and Rescue bank account online and saw that only two thousand dollars were in it. Within two weeks of coming back home to America, I knew I had to wire 10,000 dollars to the field in Liberia for our programs and projects to continue. We had been incredibly fugal with spending, yet donations were at an all time low. 
      I remember going back to my room at the orphanage/safe home and calling Tim in complete despair and frustration. Thinking it might be time to start laying off all our people and shutting some things down. 
     Tim seemed unusually calm and said he would be praying as we were quite helpless with both being overseas. God had to come through on this one.  
     After getting off the phone, I had some one on one time with God. It was pouring rain and my metal roof made the rain sound incredibly loud. I took this opportunity to yell out to God, knowing no one would hear me, because of the pounding noise of rain. I had  it out with God, and felt like God could handle it. I let Him know how frustrated I was. My rants went something like this: "We are only doing what You has asked us to do. we are living simply and using every dollar to the fullest, yet here we are, in this desperate state.  I am not going to take the weight of all this on anymore, It is yours. Once and for all, I am handing it to you. If you want to close it down, then so be it. I cannot worry about it and take this stress anymore. The end."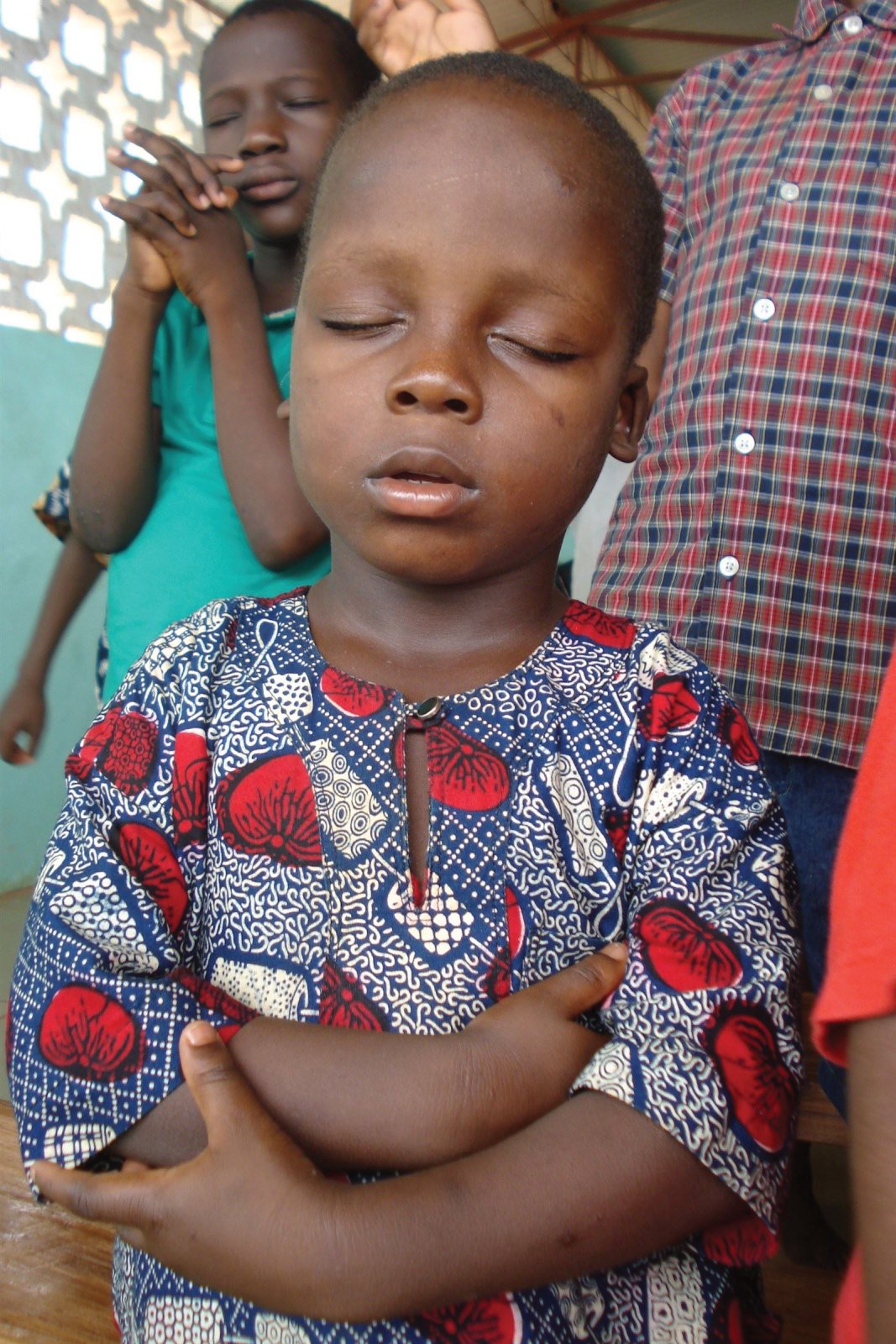 The rest of the day I took time to listen to worship music and just purge my anxieties to Him. It was a complete releasing to God. (I had thought I had done this numerous times before in the last 6 years of doing this work, but this time it was a bit different. It was a release to a new level).
     After many hours passed, I felt like God asked me to go over to the window and to look out. As I did, I saw our little orphan boy named Joseph, (changed name) who lost his parents to AIDS and also has AIDS himself, just sitting by himself, as all the other kids played around him. He was extra weak this day. (Pictured here, while in a corporate prayer time).
     I walked out and put this little one in my arms and nuzzled him into my chest. He was real stiff, as he never knows what to do with such affection.
    I forced him to nuzzle, and he finally relaxed and fell asleep peacefully in my mothers arms.  As I looked at Joseph sleeping so beautifully, tears dripped down my face onto his face, as I breathed these words to God, "Oh how I love this little one, yet I know you love him even more than I do. He is yours. I give him to you. If you want to close it all down, that is your call. I am just going to walk forward in what you ask. I trust you with all this.  
     As I looked around at all the other kids, I begin to remember all their crazy rescue stories as well. And breathed out these same words "They are yours Lord. They are yours.
In coming home to America, We sent a letter out to friends sharing the need.  We immediately had one person let us know that they were sending 10,000 dollars which allowed us to wire what we needed to Liberia. Soon after, another couple sent another 10,000, and after that another couple, 5,000 which got a triple match from their business. To our incredible surprise and relief, God got us through the summer months. Then our October event brought in another amount that held us through to the next phase. 
     All I can say is that God is truly faithful. I am so thankful for the many of you who pray and give as God prompts you, and that God uses each of us to make a tangible difference as we choose to say yes, and to trust Him with the details. Whatever He wants to do. I trust Him. Even if he did choose to close it all down. I still trust Him. All of this is His, not mine. I am just walking in what He asks each day, and that is a beautiful and releasing place to be. 

     In your life, Can you trust Him with your everything?
/