Shopping Cart
Your Cart is Empty
There was an error with PayPal
Click here to try again
Thank you for your business!
You should be receiving an order confirmation from Paypal shortly.
Exit Shopping Cart
Inspired to Action blog posts by Rebecca Pratt
| | |
| --- | --- |
| Posted on March 10, 2013 at 8:17 PM | |

Through my life I have found that God is truly trustworthy and really does have the best for my life, and for the lives of those in front of me.   All through the bible God shows us that He is always working towards Redeeming, Rescuing and restoring people. 
     In 1 Kings 17:9-16 Through a 3 year famine, the Prophet Elijah was told by God that a widow would feed him and care for Him, yet when he reached this widow, she was preparing to make the last bit of food she had, and was preparing to die with her only son. 
     Elijah asked her to please make him a cake first, and that God would not let her flour or oil run out until the Lord sent rain on the land. So by faith she did according to what Elijah asked, and it says in the 16th verse, "The bin of flour was not used up, nor did the jar of oil run dry, according to the world of the Lord, which He spoke by Elijah"
     This story reminds me of a pretty desperate situation that happened last June, where I had to either trust God or fall into deep despair. 
     I was in Benin, and Tim was in Liberia. I checked our Orphan Relief and Rescue bank account online and saw that only two thousand dollars were in it. Within two weeks of coming back home to America, I knew I had to wire 10,000 dollars to the field in Liberia for our programs and projects to continue. We had been incredibly fugal with spending, yet donations were at an all time low. 
      I remember going back to my room at the orphanage/safe home and calling Tim in complete despair and frustration. Thinking it might be time to start laying off all our people and shutting some things down. 
     Tim seemed unusually calm and said he would be praying as we were quite helpless with both being overseas. God had to come through on this one.  
     After getting off the phone, I had some one on one time with God. It was pouring rain and my metal roof made the rain sound incredibly loud. I took this opportunity to yell out to God, knowing no one would hear me, because of the pounding noise of rain. I had  it out with God, and felt like God could handle it. I let Him know how frustrated I was. My rants went something like this: "We are only doing what You has asked us to do. we are living simply and using every dollar to the fullest, yet here we are, in this desperate state.  I am not going to take the weight of all this on anymore, It is yours. Once and for all, I am handing it to you. If you want to close it down, then so be it. I cannot worry about it and take this stress anymore. The end."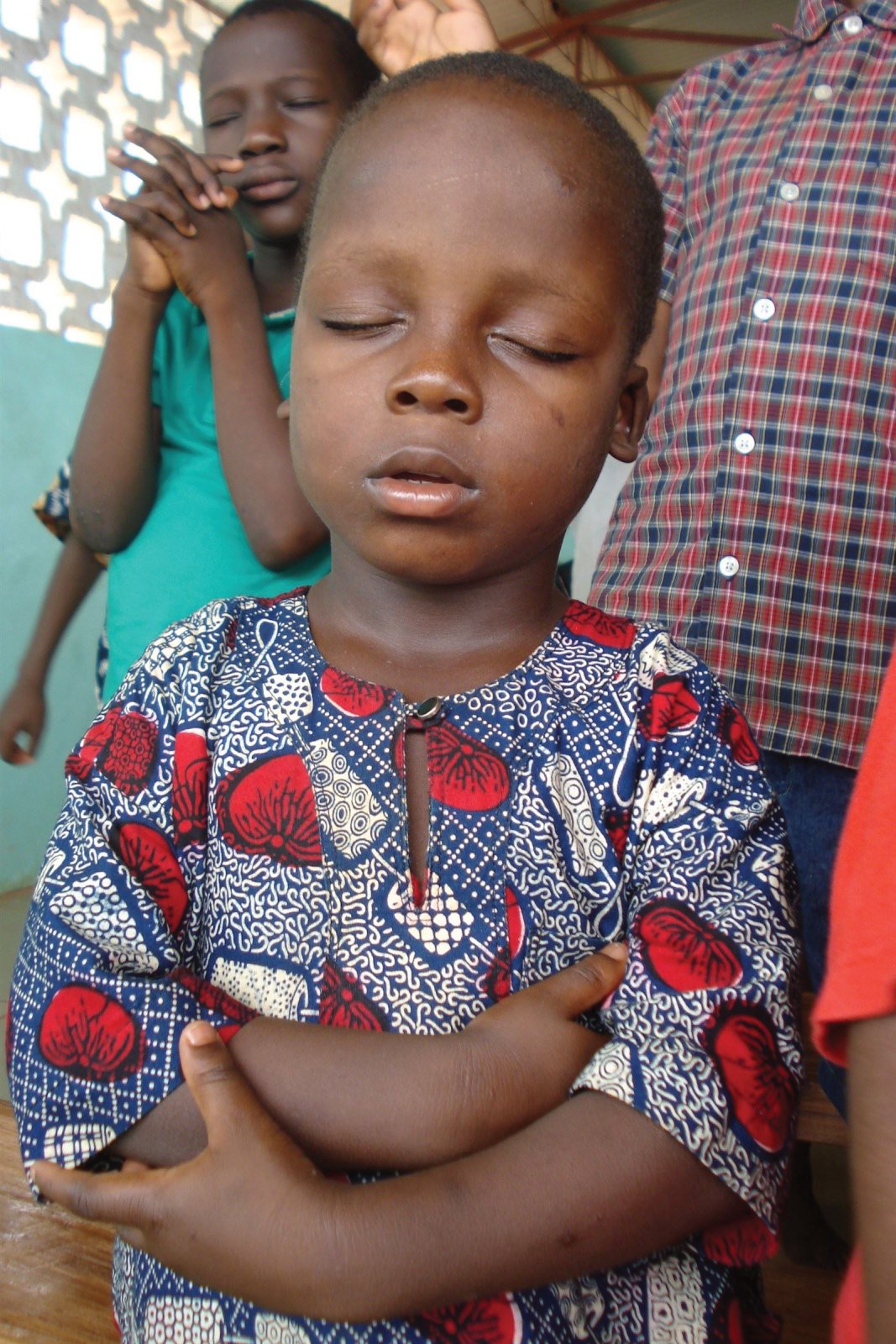 The rest of the day I took time to listen to worship music and just purge my anxieties to Him. It was a complete releasing to God. (I had thought I had done this numerous times before in the last 6 years of doing this work, but this time it was a bit different. It was a release to a new level).
     After many hours passed, I felt like God asked me to go over to the window and to look out. As I did, I saw our little orphan boy named Joseph, (changed name) who lost his parents to AIDS and also has AIDS himself, just sitting by himself, as all the other kids played around him. He was extra weak this day. (Pictured here, while in a corporate prayer time).
     I walked out and put this little one in my arms and nuzzled him into my chest. He was real stiff, as he never knows what to do with such affection.
    I forced him to nuzzle, and he finally relaxed and fell asleep peacefully in my mothers arms.  As I looked at Joseph sleeping so beautifully, tears dripped down my face onto his face, as I breathed these words to God, "Oh how I love this little one, yet I know you love him even more than I do. He is yours. I give him to you. If you want to close it all down, that is your call. I am just going to walk forward in what you ask. I trust you with all this.  
     As I looked around at all the other kids, I begin to remember all their crazy rescue stories as well. And breathed out these same words "They are yours Lord. They are yours.
In coming home to America, We sent a letter out to friends sharing the need.  We immediately had one person let us know that they were sending 10,000 dollars which allowed us to wire what we needed to Liberia. Soon after, another couple sent another 10,000, and after that another couple, 5,000 which got a triple match from their business. To our incredible surprise and relief, God got us through the summer months. Then our October event brought in another amount that held us through to the next phase. 
     All I can say is that God is truly faithful. I am so thankful for the many of you who pray and give as God prompts you, and that God uses each of us to make a tangible difference as we choose to say yes, and to trust Him with the details. Whatever He wants to do. I trust Him. Even if he did choose to close it all down. I still trust Him. All of this is His, not mine. I am just walking in what He asks each day, and that is a beautiful and releasing place to be. 

     In your life, Can you trust Him with your everything?
Categories: Children rescued, Life inspiration
/