Shopping Cart
Your Cart is Empty
There was an error with PayPal
Click here to try again
Thank you for your business!
You should be receiving an order confirmation from Paypal shortly.
Exit Shopping Cart
Inspired to Action blog posts by Rebecca Pratt
| | |
| --- | --- |
| Posted on April 9, 2013 at 1:00 PM | |

The people in Benin are beautiful and have truly won over my heart.  I love to see the huge redemption story God is unfolding, as He works to redeem so many broken lives. The difficult thing about this country is watching so many people go through incredible pain and hardship in the name of culture.  
     If you talk to most locals up country in Benin, they will tell you their culture does not cause any pain, unless of course, you make someone mad. Then you better watch out. because you may be cursed or poisoned, which is a common remedy to their problems. Otherwise, they will tell you, their culture is beautiful and wonderful. Benin is known for being one of the most cultural african nations. You will notice right away that they love to dress to the hilt in their african material, even if just going to buy something in the street market.  It is disgraceful not to look your best. The traditions of their ancestors are practiced in a strong way. There are beautiful things about this culture, but there are equally wicked and evil things, which brings me back to Benin over and over again. 
     Some may wonder why I regularly highlight the sad things in Benin and not all the good things. I have to say, due to all the injustice to children that I have seen happening here, I am driven to come half way across the world to fight hard for the many helpless ones who have become victims in the name of what is called culture. I would gladly stay in my comfortable home in America, yet I have seen and heard too much, and God will not allow me to stand back and do nothing. I desperately need people to help in this fight, and without telling the stories of the reality of so much pain inflicted on children here, I cannot get the help these kids need.  At the same time, I have to also honor and love those in my path, no matter what country I am in, and for that, I do not look at any of those who practice these wicked things as terrible people, I look at them as just doing the only thing they have been taught. It is all they know. They do not understand why life is valuable. This is where the God element has to comes in, along with each of us doing our part.
     Without understanding that there is a God who created each of us in HIs own image and takes great value in our lives, there is no concept of why a human life is sacred and valuable.
     In the area's where voodoo and witchcraft is practiced, it is accepted as cultural practices not to be disrupted. This is where no child's life carries much value, and an orphans life carries no value at all. In their view, them becoming orphaned was destined by the gods, and therefore that child is destined to be in service to others for the duration of their childhood. Horrific abuse occurs to those children in those villages.
     The good news is that In these efforts, we are seeing huge progress with each year that passes by. Not only with the children we are able to rescue, but by our shear presence, and others joining this fight for justice. We are making a huge difference as we represent the voice of every hurting child in each village we visit, and in every government office we enter. For that reason, I keep jumping on planes and working hours and hours to keep Orphan Relief and Rescue running, along with our small staff, volunteers and donors. We do this for the sake of the voiceless ones who need us to keep fighting for them in both Benin and Liberia.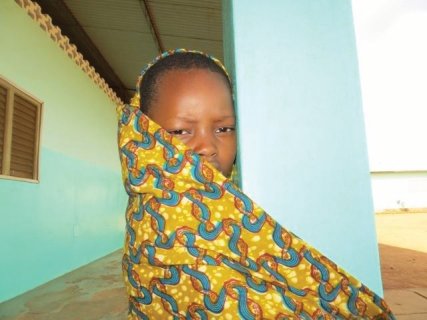 Beating an orphan to death and burying them in the back yard with no questions asked, is not okay. Cutting up a child's face in a painful voodoo ceremony, is not okay. Using an orphan or abandoned child as a slave, is not okay. Female circumcision is not okay. Taking a child bride is not okay. Selling your child into trafficking is not okay. Poisoning a loved one or co -worker to die or get sick, is not okay. Sacrificing children to appease the gods, is not okay (this is now outlawed here, but still occurs). The only things  mentioned here that you can go to jail for, are the human sacrificing or poisoning, if someone tells on you and they can prove it. Even then, most are afraid of being poisoned or cursed themselves and won't tell.
     I must make a side note here, that not all of the area's of Benin are the same. There are different area's where the things I share about are not practiced. What I share does not represent the whole of the country, yet, in the areas where we work, and in many villages in Benin, it does in a very real way. There are also many local hero's who are in this fight for justice as well, and for those, we regularly join forces to support and help them in their efforts.
     For the lives of the innocent, we will keep fighting, even if it is not culturally acceptable to question these things.
Categories: Children rescued, Life inspiration
/