Shopping Cart
Your Cart is Empty
There was an error with PayPal
Click here to try again
Thank you for your business!
You should be receiving an order confirmation from Paypal shortly.
Exit Shopping Cart
Inspired to Action blog posts by Rebecca Pratt
| | |
| --- | --- |
| Posted on August 19, 2013 at 11:34 AM | |
Sometimes we wonder if our prayers really make any difference. Are they making an impact? Are destinies changed? Are accidents thwarted? Are lives saved? Are Nations and people groups impacted?
In reading about Esther and Daniel and the many others of strong faith in the bible, as well as things I have seen God do personally, I can say for sure, a strong yes! Our prayers do affect change wherever we go and in whatever we do.
When Esther was getting ready to go before the King to plea for her people to not be killed, she first gave a message to all the Jewish people to begin a three day fast and prayer time. Before this prayer time, the King was giving his right hand man, Haman, his approval to do whatever he liked in his kingdom, including putting together a decree to wipe out the entire Jewish people group. The King was not alarmed or concerned by any of it. He encouraged Haman to do whatever he pleased with this people group.
It says in Esther 6:1 that after three days of fasting and prayer by the Jewish people, the King could not sleep that third night. He was agitated all through the night. God kept him up with the remembrance of Mordecai and the fact that Mordecai had brought to light the plot his Eunuchs had to kill him. Not knowing Mordecai was a Jew, it bothered the King that he had not honored the man who had saved his life. This was just the beginning of God's plan to change hearts and to prepare the soil for what Esther would present to the king to spare her people. This sleeplessness came about as the Jewish people were praying.
Another Example in the Bible was with Daniel. While he was reading the prophet Jeremiah's writings, he discovered that it was prophesied that the Israelites' captivity would only last for 70 years. It had almost been 70 years. Instead of just expecting God to set the Israelites free, Daniel suddenly feels the urgency to pray and fast for this to come to pass (Daniel 9:3). Somehow, he understood that prayer had a huge part to play in bringing that prophecy into existence. In Daniel 10:12-13 an angel appeared to Daniel and spoke these words to him: "Do not be afraid, Daniel, for from the first day that you set your heart on understanding this and on humbling yourself before your God, your words were heard, and I have come in response to your words. But the prince of the kingdom of Persia was withstanding me for twenty-one days: then behold Michael, one of the chief princes, came to help me for I had been left there with the kings of Persia." This was speaking of the spiritual battle going on in Heaven as Daniel was praying.
The Israelites were set free soon after that.
There are many examples in the Bible that give illustrations of how God asked someone to pray or act upon something which would enable God's will to come to pass. Jesus even told us in Matthew 6:9-10 to pray that His kingdom would come and that His will would be done, on Earth as it is in Heaven. Why would Jesus ask us to pray this, if it was just going to happen? We are His representatives on Earth. He needs us to pray and ask for His perfect will to be accomplished.
In the work we do in Africa, we have seen over and over again that as we pray, and people such as yourself pray, many amazing things happen. Kids are able to be rescued. Abusive situations are discovered, and interventions are able to take place.  Strong favor  is upon everything we touch. God's highest is being accomplished. May we each continue to pray like never before for God to continue to accomplish all that He has planned, in and through our lives as we reach out to help those in need in front of us.  
This little boy's life was rescued because of prayers. His name is Ezekiel. He was destined to die without outside intervention. He had a life threatening hernia the size of a cantaloupe on his groin area. God made a way for us to help rescue him deep within a Liberian village up country where there is no medical care. We were the first white people to ever come to their village. His destiny was changed through God's intervention through our prayers and efforts. God's heart is to restore, redeem, and to rescue, and this is how we prayed according to His perfect will. Surgery was successful on Friday Aug. 16th.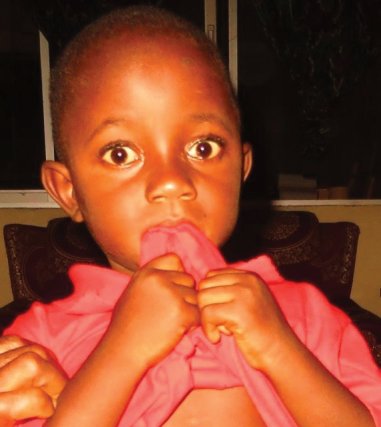 This little girl is from the same village in Liberia where we were able to help rescue Ezekiel. She along with all the village kids were given new clothes, flowers for their hair, and stuffed animals. Precious kids whom God has some beautiful plans for.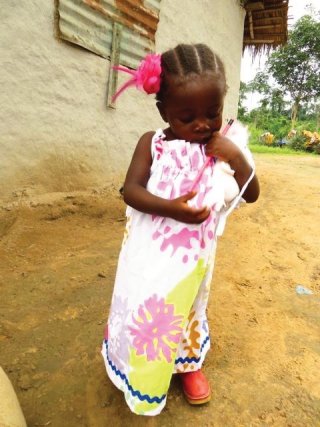 Categories: Children rescued, Liberia, Life inspiration
/